Whew I did it!
I made my first ever VLOG and it was nerve wrecking; thankfully I had my friends on twitter and my supportive husband to help me get through it all! Thank you!
I'm excited to share my VLOG with the sweet ladies @MoreThanMommies for their Mommy TMI and More Than Mommies Mixer, which I'm co-hosting!!!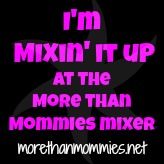 We would love for you to come Link-up your posts, and then join us at the #MTMMixer Twitter party Friday june 28th from11:00-11:30 a.m.
So, I say so a ton.
But what do you think, for my first time?
My husband did the editing :)
If you're new here I'd love for you to stay awhile and get to know me--go on click around be nosey, it's all good!
I'm asking for your help here
And Now Let's Get This Party Started!!!
Here are the "rules"
(Don't make us post bouncers at the door.)
Follow the Life of The Party -
Vegan Mama Eco Baby
We will choose our Next LOTHP from those who link up their twitter handle. Use our hashtag #MTMmixer when tweeting so we can keep up with you there! We would still TOTALLY appreciate a shout out on Twitter if you don't mind!
Follow our Mixologists - This week our Mixologist is
Mrs. AOK
- Every week we will choose one participant to get our party started at the #4 slot. All you have to do is link up under the first Linky (and follow the "rules") to be considered!
Add your Post/Twitter ID/Blog URL to the Linky it belongs in.
Follow the person directly BEFORE you on the hop!
Comment on any Mommy TMI Posts you visit! We all love comments so SPREAD THE LOVE!
Finally, we ask that you post one (or both) of our buttons in either a post or on your sidebar to let other people know where you are partying today!
Link up your Blog Here:
---
---
---
Link up your Mommy TMI Post Here:
---
---
---
Link up your Twitter Handle Here:
---
---
---